Departments
Online Seminars
In-person Seminars
General Info
Newspaper Clients
Ad Makeover
Fox Valley Animal Referral Center
Introduction
While the Fox Valley Animal Referral Center in Appleton, Wisconsin was already the area's most successful veterinary emergency and referral center, like any good business, it wanted to increase its market share.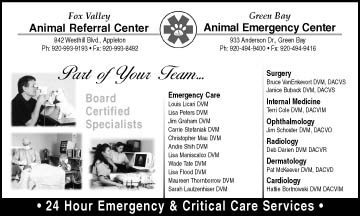 Though certainly better than most ads in their category, we saw opportunities to make their ad more effective.
As we discussed in our article on common misuses of image ads, many professionals--especially doctors and lawyers--find it difficult to sell their services in print ads. They often fear an attempt to aggresively sell their services will result in pushy, offensive ads that will alienate their current and prospective clients as well as their peers. Often they feel their only option is to run ads containing laundry lists of names, specialties, and services offered.

In this article, we'll share the approach we used to give Fox Valley a professional ad makeover intended to get the maximum amount of their target customers seeing the new ad, reading it, and responding the very first time they see it.
We started by asking the questions in our Key Questions article, including those about Fox Valley's target customer.
Next: Identifying their target customer